Show notes
In the drive to find solutions, technologies, gadgets and gizmos that create positive social and environmental change in the world, the importance of money – its movement, and how and where that money is spent, cannot be understated.
After all, money makes the world go round.
The trouble is if the world's big money remains tied up in pension funds, bonds and financial instruments that continue to pay for unsustainable products, services and fund traditional, and unsustainable business models - then it's going to be really hard to change things. Have a look at the best performing companies on the various global stock exchanges and they are littered with firms from extractives, oil, coal and other big dirty industries.
So, what can be done? Well, there's plenty and the exciting thing is that so-called divestment - taking money out of funds and pots which are helping to support unsustainable companies and industries - like oil and gas, like tar sands – is a movement which has been steadily gaining traction these past few years.
From Bill McKibben's 350.org campaign to shut down of the world's most dangerous fossil fuel projects, to The Guardian's Keep It In The Ground, launched by the outgoing former editor Alan Rusbridger as a sort of legacy vanity project, hundreds upon hundreds of thousands of people are galvanishing to push for the big foundations, like the Gates Foundation, to divest from fossil fuel schemes.
In September 2015, it was announced that institutions and individuals representing more than $2.6 trillion in assets under management are committed to fossil fuel divestment. And this number is only likely to grow, as 84% of millennials say they favour ESG investing, and roughly $41 trillion will pass to millennials from baby boomers over the next 35 years.
Of course, the concept of socially responsible investment – where enlightened investors that care about the planet, rather than just making a quick buck, are engaging with responsible and sustainable companies – has been around for decades now.
According to Pensions & Investments magazine, money managers practicing socially responsible investing now control almost $6.6 trillion, representing 18% of all U.S. assets under management. That figure has grown 76% in just two years.
Clearly, the conventional wisdom that investors who bring to bear moral and ethical concerns forfeit potential profits by screening out companies in certain sectors, such as tobacco, doesn't hold up. A report by RBS Global Asset Management says that between 1990 to 2012, the KLD 400, an index of socially responsible stocks, has maintained a higher return on investment than the S&P 500.
And plenty more evidence and research reports pointing to the same sorts of results. It's no wonder financial heavyweights like Goldman Sachs Group (GS) Inc. and Bank of America Corp. are embracing SRI too. Last summer, Goldman spent $550 million to buy Imprint Capital Advisors LLC, which utilizes SRI. The same month, Bank of America reported it has invested more than $8.6 billion using SRI strategies.
These profit-seeking investing giants aren't using SRI because it's trendy. They're using it because it works.
Yet some financial experts still don't see the potential profitability of SRI. They believe that investing with an eye toward "social responsibility" — spending money to improve working conditions, reduce pollution or give back to the community — limits portfolios and sacrifices returns.
There's still a long way to go before we see the mainstreaming of SRI and divestment out of dirty industries.
This week's Better Business Show guest is a man at the heart of this debate and certainly sees the value of channelling monies into the greenest and most progressive of companies. Ian Monroe is the co-founder and chief sustainability officer at Etho Capital, an investment management company committed to taking sustainable investing mainstream.
Enjoy.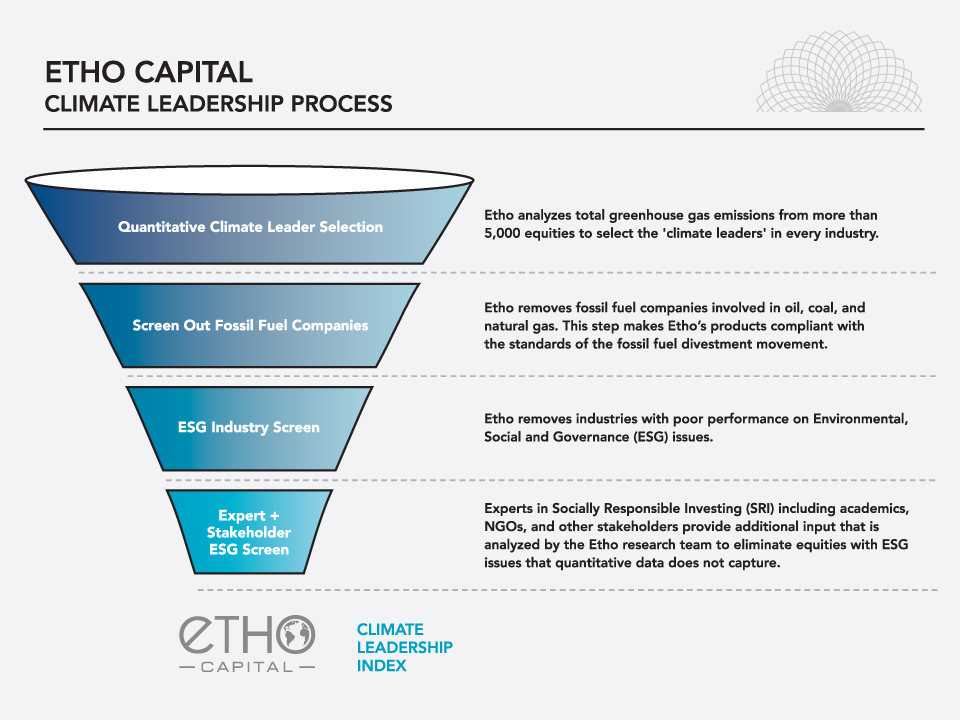 You can find out more about the business and the Etho Capital Leadership Process on their website. Here's the link to the ethoetf.com Ian spoke about.
And for more on Ian, check out his LinkedIn profile.
Oh, and don't forget to subscribe to the show via iTunes.